In this difficult Pandemic time, when the  many artists can not share theare talent with public, there is a new  virtual format of the concerts,  and we would like to present you an excellent American piatform, based on Boston GROUPMUSE https://www.groupmuse.com/?nav=1
Dear Friends, Join us in Groupmuse on October 4th at 3pm (NY), 9pm (European time), 2 pm (Mexico), and 10pm (Moscow) for an EXCLUSIVE WORLD PREMIERE [HD recording] of the 'Pavlova Songs,' a song cycle written by Mexican composer Venus Rey Jr., conducted by Fabrizio Da Ros and performed by the Musica Viva Orchestra, featuring soprano Natalia Pavlova. The registration is open now For reserve SPOT, pleas go here https://www.groupmuse.com/events/11021-the-pavlolva-songs-an-hd-orchestral-premiere
In this work, Rey sets to music "One Touch in Seven Octaves" (Одно касание в семи октавах), a collection of seven erotic poems written by the celebrated Russian poet Vera Pavlova.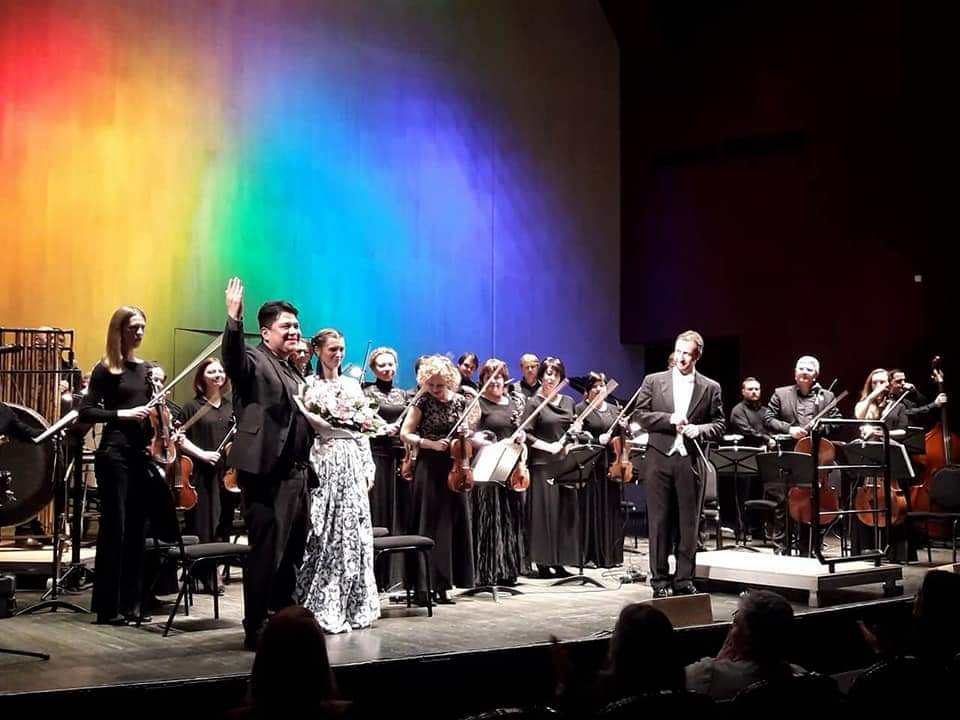 A very unique collaboration between a living poet and composer, as sung by the poet's own daughter, this Premiere will celebrate the release of the upcoming Da Vinci Classics album 'The Pavlova Songs.' The artists and musicians will also be joining us in the pre and post-concert Zoom sessions for an exciting discussion and q&a about their unique collaboration.
Description of the event and information about the partecipants:
The event on Ottobre 4-th at 3 pm (NY), 9 pm (European time) is dedicated to release of new CD "Pavlova songs" with music of Venus Rey Jr (after poems of Vera Pavlova "One touch in seven octaves" ), directed by Fabrizio Da Ros, orchestra "Musica Viva", Natalia Pavlova – soprano,  Da Vinci Classics Record company.
On Ottobre 4-th at 3 pm (NY), 9 pm (European time),2 pm (Mexico),10 pm (Moscow)   on Groupmuse will be broadcast the exclusive video of the concert with world premiere of"Pavlova Songs"  at the Moscow International House of Music (Дом музыки)(HD video quality, excellent sound edition of Venus Rey), you will  see the full, exclusive version of the concert with reading of the poems "One touch in seven octaves" by Vera Pavlova her self . Natalia Pavlova – soprano soloist. Fabrizio Da Ros conducts the Orchestra Musica Viva Moscow (Московский камерный оркестр Musica Viva).
The Pavlova Songs is a song cycle written by Mexican composer Venus Rey Jr. In this work, Rey musicalizes "One touch in seven octaves" (Одно касание в семи октавах), a collection of seven erotic poems written by Russian poet Vera Pavlova.
This work originated from the artistic collaboration between Russian artists Vera and Natalia Pavlova, and Venus Rey Jr. In September 2016 Natalia sang a program of Rey's music in Venice. In that concert, the Orchestra di Padova e del Veneto, one of the most prestigious ensembles in northern Italy, performed Rey's Bachianas 1, 2 and 3. Natalia and the composer have been close friends ever since. Natalia told Rey that she is a descendant of the great Pushkin, and also told him that her mother, Vera, is one of the leading poets in Russia, with twenty one books published and that her work translated into 25 languages. The idea of working with Vera's poems emerged. Vera suggested a set of seven poems: One touch in seven octaves.
These are erotic poems, both subtle and explicit. It is the voice of a woman expressing and singing her desire towards the man she loves. A key concept is the caress and Vera expresses it through fantastic metaphors: caresses that are like a first-grader handwriting (No.1); caresses that make the loved one faint and disappear into nothingness (No. 2); caresses that are like a bow over the strings of an ethereal instrument which is the body of the loved one (No. 3); caresses that make the body light, chiseled and compact (No. 4); love itself playing the blind-man's-buff and the hide-and-seek game with lovers (No. 5); the nature of touching –touching the sex of the beloved– as the key to release the mystery of a metaphysical disembodiment (No. 6); and finally the sensation of ants racing all over the body and the lover propelled into ecstasy (No. 7).The Pavlova Songs is a work written and sung in Russian. In the film there will be subtitles in English in  translation by  Steven Seymour. The song cycle is scored for three parts of violins, two parts of violas, two parts of cellos, double bass, piano, timpani, percussion, flute, bassoon, horn and soprano soloist.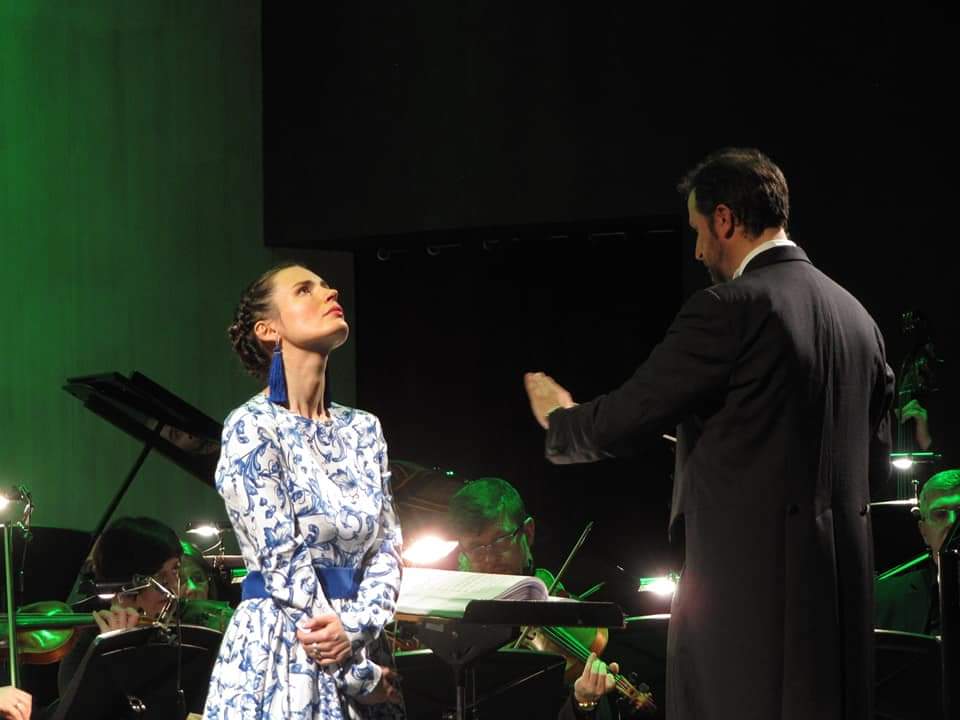 In  2019 Pavlova song in a new version for voice, cello, horn and piano was performed with very big success and standing ovation In  with Georgy Gusev, Ian Vlahović and Cristina Pegoraro in CARNEGIE HALL OF NEW York.
After the translation of the concert Venus Rey Jr, Natalia Pavlova, Vera Pavlova and Fabrizio Da Ros will meet with public in conference dedicated to a new CD  "Pavlova songs"
VENUS REY JR
Venus Rey Jr. is an artist and a scholar. He composes music for symphony orchestra. He is a writer and a lecturer on Law, Philosophy and Art. His music has been performed in Russia, UK, Germany, Austria, Italy, Poland, Ukraine, USA, Argentina, Peru and Mexico.
FABRIZIO DA ROS
Conductor
Subsequent to his studies at the Musicological Science faculty (majoring in organ studies), within the School of Paleography and Musical Philology at Pavia University (annex of Cremona) he graduates as a cellist from the A. Steffani Conservatory of Castelfranco Veneto under the guidance of Maestro W. Vestidello. In 2009 he graduates in Orchestra Conducting with M° D. Renzetti at the Accademia Musicale Pescarese and in Wien with m° Mas Condè at Wiener Konservatorium.
He had studied Orchestra Conducting with m° A. Zedda at Accademia Rossiniana in Pesaro and Accademia Chigiana with m° G. Gelmetti.
In 2006-2009 he was assistant Conductor in the most important italian theathres (Teatro la Scala di Milano, Teatro dell'Opera di Roma, Gran Teatro la Fenice di Venezia, Teatro Verdi di Trieste, Teatro Marrucino, Teatro verdi di Pisa, etc etc).
Than he conducted in important theatres and festivals of the world more than 85 lyric Operas, such as Nabucco in Strasburg Theater, the epic opera Ramleela at Siri Fort Auditorium of New Delhi, Tabarro/Lodoletta in Goldoni Theatre in Livorno, Zanetto/Susanna's Secret in Cairo Opera House, Nabucco in National Theatre of Banska Bystrica, Don Giovanni in Belgrade National Theatre, Carmen/Aleko/Pagliacci in Opava Silesian Théâtre, Serva Padrona\kaffekantate in Ankara  Carmen in Oporto with Orchestra do Norte, Schicchi/Rita in Teatro Comunale of Treviso and other.
In symphonic situations he conducted in well-known concert hall such as the Mahler's 5th Symphony State Symphony Orchestra of Mexico in Toluca "F. Villanueva" Concert Hall and Teatro Bicentenario in Città del Messico, in the famous Carnegie Hall in New York  with New England Symphonic Orchestra, in the Palais de la Musique in Strasburgo, in Victoria Hall in Geneve with Orchestra Filarmonica dell'Opera Italiana and in Svetlanov Hall in International House of Music in Moscow and in Smetana Hall in Prague with Bohemian Symphony Orchestra Prague and other.
He worked with important stage directors such as: I.Stefanutti, R. Bonajuto, P. Panizza, M. Gandini, B. Streiff, G. Romagnoli, F. Bellotto, M. Pucci Catena, De Plano, A. Triola and  with many important soloists such as C. Coin, M. Campanella, R. Buchbinder, R. Goebel, M. Haselböck, P. Giugliacci, B. De Simone, B Frittoli, M. Carosi, D. Alogna, G. Zampieri, G. Gullotta.
Since 2016 he is the artistic and music director of OCI (Orchestra Classica Italiana) on period classic and Romantic instruments, Artistic director of music festival "Libiam!"(3th season), artistic director of Valbelluna Opera Studio(6th edition).
From 2019 he is Theacher of Orchestra Conducting in State Conservatory "S. Giacomantonio" in Cosenza.
He has recorded for RIVOALTO BRILLIANT, RAINBOW, BONGIOVANNI, DA VINCI, DYNAMIC , TACTUS, ARTS and AMADEUS.
VERA PAVLOVA
Vera Pavlova was born in 1963, in Moscow (Russia).  She is a graduate of the Schnittke College of Music and the Gnessin Academy of Music, where she specialized in history of music and wrote her dissertation on the chamber vocal cycles of Shostakovich. She worked as a guide at the Shaliapin Museum in Moscow, published several essays on music, and sang in a church choir.
She began writing poetry at the age of twenty, after the birth of her first daughter, while she was still at the maternity ward. She first published her poems at the age of twenty-four, in the literary monthly "Yunost'" ("Youth").  Pavlova became a celebrity after no fewer than seventy-two poems of hers were published in a two-page centerfold of the "Segodnia" ("Today") daily, a unique event in the annals of Russian literature, giving rise to the rumor that she was a literary hoax.  Since then, her works have appeared in many newspapers and in most of the major magazines in Russia.
Her first collection, "Nebesnoye Zhivotnoye" ("The Heavenly Animal"), was published in 1997.  The second and third collections, "Vtoroi Yazyk" ("The Second Tongue"), 1998, and "Linia Otryva", ("Tear on This Line"), 2000, were issued by the Pushkin Foundation Publishing House, in its prestigious "Autograph" poetry series.  Her fourth collection, "Chetvertyi Son" ("The Fourth Dream"), was acclaimed by the Russian Academy of Letters as the best book of the year and was awarded the Grand Apollon Grigoriev Prize, at the time the most prestigious of its kind in Russia.
To date, Pavlova has published twenty two collections of poetry in Russian, of which "Vezdes'" ("Here and Everywhere"), 2003, "Ruchnaya Klad'" ("Hand-Carried Luggage"), 2006, and "Pis'ma v sosedneyu komnatu" ("Letters to the Room Next Door"), 2006, were voted The Best Book of the Year.  The latter of these collections is a unique project in book printing: it consists of 1001 poems written out in Pavlova's hand and illustrated with drawings done by her daughter when the girl was four years old.
As of now, Pavlova's poems have been translated into twenty six languages.  She has participated in international poetry festivals in Azerbaijan, Belgium, Germany, Greece, France, Italy, Switzerland, the Netherlands, the Ukraine, the United Kingdom, the United States, Armenia and Uzbekistan. She has held poetry readings at a number of American schools, including Columbia University, University of Illinois at Urbana, Dartmouth College, Ohio State University, Virginia Tech,  Harvard University, North-Western University, Wesleyan University, Dickinson College, Princeton University, University of Alaska (Anchorage), Boston College, and at some other schools in the United States and abroad.
Pavlova has participated in art projects jointly with painters ("Poetry and Photography" with Vladimir Suliagin, "A Book in Screens" with Sergei Maksiutin, "Woman: A User's Guide" with the TAFF Design Lab). She has authored five libretti of operas (to the music by Iraida Yusupova, Michael Nyman, Anton Degtiarenko, and Yefrem Podgaits) and three oratorios (music by Iraida Yusupova, Piotr Apollonov, and Vladimir Genin).  She has also experimented with non-traditional ways of disseminating poetry, such as SMS-messaging, postcards, video clips, and audio books. The Kontent Media recording company has released seven audio books with Pavlova reading her selections from the works of renowned Russian poets (Akhmatova, Tsvetaeva, Pasternak, Mandelshtam, Yesenin, Blok, and Kuzmin). Stage productions based on Pavlova's works are included in the repertoires of theatres in the cities of Moscow, Perm, St. Petersburg, Kaluga, and Skopin. Documentary films on Vera Pavlova have been released in Russia and the United States; she is also among the literary figures in documentaries covering contemporary Russian literature, filmed in Germany and France.
In the United States, Pavlova's poems have appeared in Verse, Tin House, The New Yorker, and Poetry magazines, as well as in The New York Times. One of her poems was selected by the Poetry in Motion program and was displayed as a poster in subway cars in New York City and in Los Angeles buses; it was also issued as a bookmark by the Poetry Society of America. That poem has served as the title of Pavlova's first collection in English, IF THERE IS SOMETHING TO DESIRE (Alfred A. Knopf Publishing, 2010), translated by her husband Steven Seymour. In December 2009, the book was announced and its author was featured on the PBS-TV "News Hour with Jim Lehrer" program; its presentation was held at the National Arts Club in NYC in February 2010. Her second collection in English, "Album for the Young (and Old)", was published by Alfred A. Knopf in 2017
MUSICA VIVA ORCHESTRA
 Musica Viva's origins go back to 1978, when violinist and conductor Viktor Kornachev founded a musical ensemble of nine players – all young and enthusiastic, and recent graduates of Moscow's musical academies. By 1988 the ensemble had grown into a fully-fledged orchestra, now under the direction of Alexander Rudin – who also gave the group its name, Musica Viva – Latin for 'living music'.
Under Rudin's leadership the orchestra has become a formidable musical ensemble, achieving the pinnacles of artistic creativity, and ranked along Russia's finest orchestras. Musica Viva today is an all-round musical ensemble – which performs the widest possible range of compositions in all styles and genres with an assured confidence. The orchestra's thoughtful programming embraces classical mainstream works alongside fascinating rarities. The orchestra is adept in multiple performance practices, always aiming to get as close as possible to the style the composer intended – often stripping away age-old layers of performing traditions to reveal the freshness of the masterpiece which lies beneath.
The quintessence of the orchestra's projects has been a cycle at the Moscow Philharmonia called "Masterpieces & Premieres" – in which musical masterpieces are heard in their original splendour, alongside musical rarities which are returned once more to their deserved place on the concert stage. The performance of undeservedly forgotten masterpieces forms a major part of the orchestra's repertoire. The orchestra has given the first Russian performances of works by Handel, the sons of JS Bach, Cimarosa, Dittersdorf, Dussek, Pleyel, Triclire, Folkman, Kozlovsky, Fomin, Vielgorsky, Alyabiev, Degtyarev, and many others. The broad stylistic range of the orchestra enables its members to perform both rarely-performed music of the past and the music of contemporary composers. Over many years the Musica Viva orchestra has performed music by V. Artyomov, A. Pärt, A. Sallinen, V. Silvestrov, T. Mansuryan and other living composers.
In recent years Musica Viva has increasingly been involved in large-scale projects – concert performances of operas and oratorios, featuring performances by leading foreign singers and conductors. Under the baton of Alexander Rudin the orchestra has given Masses by Haydn and his oratorios "The Creation" and "The Seasons"; Mozart's opera "Idomeneo", Weber's "Oberon", Beethoven's "Fidelio", Schumann's Requiem, Vivaldi's oratorio "Juditha Triumphans", CPE Bach's "The Last Suffering of Our Lord", as well as Degtyarev's "Minin & Pozharsky or the Relieve of Moscow". In collaboration with the British maestro Christopher Moulds the orchestra has given the Russian premieres of Handel's operas "Orlando" and "Ariodante", as well as his oratorio "Hercules". In 2016-2017, Musica Viva organized an important  international project for the performance of Mendelssohn's oratorio "Paulus" with German soloists and Kantorei der Schlosskirche (Weilburg, Germany).
In 2017-2018 Musica viva under Alexander Rudin performed early pieces by Hasse's Serenata "Marc Antonio e Cleopatra" and Handel's Dramatic cantata "Apollo and Daphne", both are the Premieres in In 2018-2019 – the season of 40anniversary of the "Musica viva"- the orchestra plans big concert-competition of 2 Maestros-Soloists. Thomas Zehetmair and Alexander Rudin will be to alternate in their art of conducting and soloing with Musica viva (October, 26, Tchaikovsky concert hall). Concert-performance of "Orfeo et  Euridice" by Gluck  will be performed on the stage of the Tchaikovsky Concert Hall March 5, 2019. It'll present a modern interpretation of the Paris release of the opera using the expressiveness of the combination of motion of  3 soloists and chorus, ballet and light scores (Choreography is Marianna Ryzhkina).
The degree of immersion in music of many epochs has almost reached the level of musical archaeology. This was the basis behind the concert cycle of 'Silver Classics', which began in 2011. The repertoire of Silver Classics is music which was highly prized in its own era, yet which has somehow disappeared from today's concert repertoire. The performers in this cycle include a young soloists who have emerged from the ranks of European music competitions, as well as a "Cello Assembly" to which maestro Rudin invites his colleagues – famous cellists.
Musica Viva regularly invites musicians of world status to join its performances. These have included Christopher Hogwood, Sir Roger Norrington, Vladimir Jurowsky, Andraš Adorian,  Robert Levin, Andreas Staier, Eliso Virsaladze, Natalya Gutman, Ivan Monighetti, Nikolai Lugansky, Boris Berezovsky, Alexei Lubimov, Giuliano Carmingola, Isabelle Faust, Thomas Zettmaier, Shlomo Minz, Anthony Marwood, and leading operatic prima donnas Joyce di Donato, Annic Massis, Vivica Genaux. Deborah York, Susan Graham, Malena Ernman, M. Cencic, F. Fagioli,  Stéphanie d' Oustrac, Hibla Gerzmava, Julia Lezhneva, Morgan Pearse and many others. World-famous choruses including "Collegium Vocale" and "Latvia" have appeared with the orchestra.
Musica Viva makes continuous appearances in major international music festivals. The orchestra has toured to Germany, France, the Netherlands, Italy, Spain, Belgium, Japan, Czechia, Slovenia, Poland, Finland, Turkey, India, China and Taiwan. Every year the orchestra gives regular concerts in many Russian cities.
The orchesta has recorded over twenty albums, including releases on the Russian Season label (Russia/France), Olympia and Hyperion (United Kingdom), Tudor (Switzerland), Fuga Libera (Belgium), and Melodiya (Russia). Most recently the orchestra has been recording an album of the cello concertos of Hasse, CPE Bach, and Hertel, issued in 2016 by Chandos (United Kingdom).
One of the most sparkling innovations which maestro Rudin has introduced with Musica Viva has been the ballet divertissement "Variations On A Rococo Theme" by Tchaikovsky – staged by Bolshoi Theatre ballerina and choreographer Marianna Ryzhkina – also at the Tchaikovsky Concert Hall.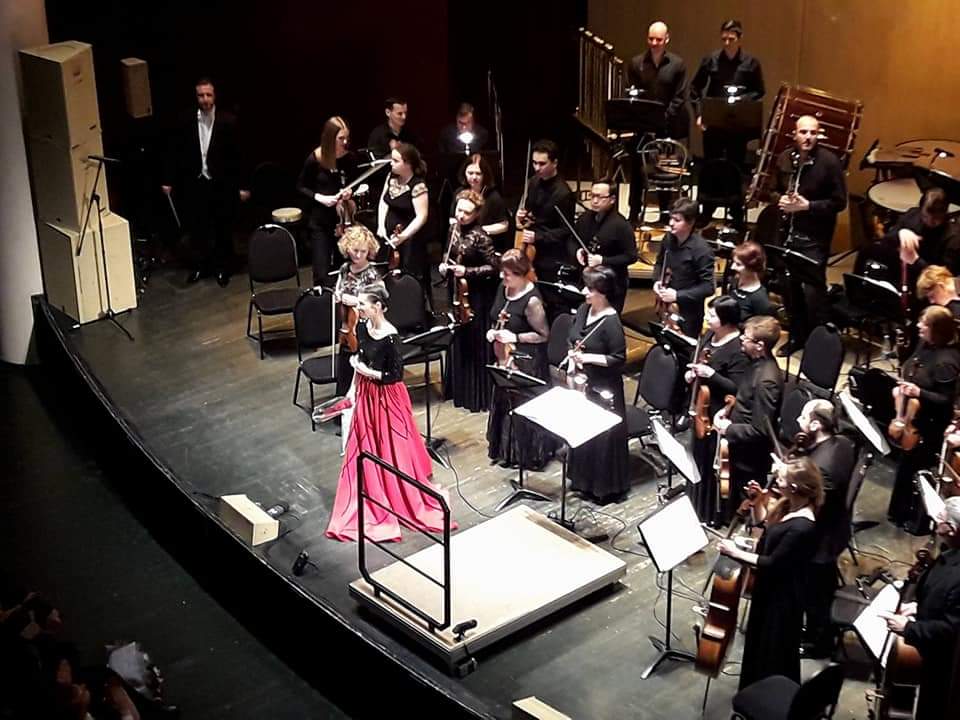 Moscow and Rome-based soprano Natalia Pavlova (who is a descendant of Russian national poet Alexander Pushkin) has graced the stages of Carnegie Hall, Moscow Chaikovsky State Conservatory, Auditorium Parco della Musica (Rome), and many others throughout the world.
Active in performing music from antiquity to today, she was a soloist for 6 years in the Moscow theater School of Dramatic Art, directed by Anatoly Vasiliev. Natalia has sung world premiere performances and recordings of works by composers Giovanni Sollima, Venus Rey and Iraida Yusupova, composed specially for her voice, as well as pieces by Vladimir Martynov. She serves on Artistic Council of The First Cultural International Festival, Russian-Rome, Palazzo Poli in Rome, and was recently awarded the Silver Lion at the Narnia International Festival, as well as the International "Clean Sound" Award.